This is an archived article and the information in the article may be outdated. Please look at the time stamp on the story to see when it was last updated.
A plan to name a stretch of the 134 Freeway after former President Obama moved forward this week with approval from the California State Senate.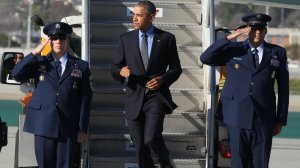 Naming L.A. freeways after living presidents is nothing new — but it sometimes comes with political blowback. And in one case, a correction.
Obama is no stranger to the area, having attended Occidental College in Eagle Rock in 1979 before transferring to Columbia University in 1981. The roughly three-year stay in the area was enough for state Sen. Anthony Portantino (D-La Cañada Flintridge) to move forward with a dedication to the 44th president.
"California has a long history of designating our freeways as reminders of the accomplishments of important leaders who have shown character, strength and passion," Portantino said in a statement. "President Obama is a laudable person to showcase and for Southern Californians to appreciate."
Read the full story on LATimes.com.