This is an archived article and the information in the article may be outdated. Please look at the time stamp on the story to see when it was last updated.
Playboy model Dani Mathers pleaded no contest Wednesday to invasion of privacy after she secretly photographed a naked, 70-year-old woman in an LA Fitness shower area and posted it on social media with a disparaging remark.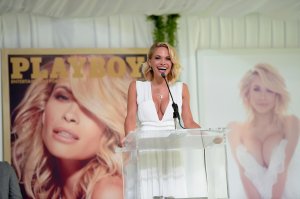 After pleading to the misdemeanor charge, the 2015 Playmate of the Year was ordered to perform 30 days of graffiti removal services, according to Rob Wilcox, a spokesman for the Los Angeles city attorney. She also must serve three years' probation.
Mathers' attorney, Dana Cole, said she has never known the victim's identity, but she has publicly apologized to her. Mathers previously pleaded not guilty in the case.
"I think she wanted to be done with this and accept responsibility for what occurred," he said.
Read the full story on LATimes.com.
#Breaking: #DaniMathers pleads no contest in our invasion of privacy case – gets 30 days graffiti removal + 36 months probation…more soon

— LA City Attorney (@CityAttorneyLA) May 24, 2017
This case was about the consequences of #bodyshaming. Imagine if it was your mother, or if the victim was a trans kid struggling w/ identity

— LA City Attorney (@CityAttorneyLA) May 24, 2017
"It is by definition humiliating to be the victim of #bodyshaming" -city atty Mike Feuer, #danimathers press availability #news

— LA City Attorney (@CityAttorneyLA) May 24, 2017