This is an archived article and the information in the article may be outdated. Please look at the time stamp on the story to see when it was last updated.
A recent image of released by NASA of the Blue Cut Fire burning in San Bernardino County showed several long plumes of smoke that can be seen from space.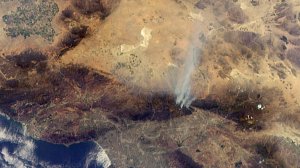 The image was taken by the Multi-angle Imaging SpectroRadiometer (MISR) instrument aboard NASA's Terra satellite on Wednesday, according to the Jet Propulsion Laboratory website.
The wildfire had burned more than 36,000 acres as of Thursday morning and forced more than 82,000 people from their homes.
The Blue Cut Fire has also destroyed "a lot" of houses, according to officials, but no exact number has been released.
The fire was just 22 percent contained as of Thursday evening.