This is an archived article and the information in the article may be outdated. Please look at the time stamp on the story to see when it was last updated.
Authorities are seeking the public's assistance in identifying a man they believe robbed a 90-year-old man at Westfield Culver City, police said Tuesday.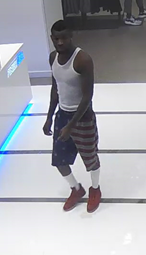 The man was sitting in the food court last Wednesday, Nov. 16, when around 12:20 p.m. he was approached by another man who ripped the gold chains he was wearing off his neck and threw him to the ground, according to a statement from the Culver City Police Department.
The suspect took the victim's wallet as he lay on the ground then fled, officers said. The victim sustained minor injuries and was treated at a nearby hospital, authorities said.
Police are searching for a man shown in the mall's security cameras, described as black, about 25-30 years old, around 6 feet tall and thin.
The Culver City Police Department is asks anyone with information on the suspect or crime to contact Detective Brent Arney at 310-253-6347.