This is an archived article and the information in the article may be outdated. Please look at the time stamp on the story to see when it was last updated.
LOS ANGELES (KTLA) — Three people were killed and one was wounded in a shooting in the Harbor Gateway area of Los Angeles on Friday, police said.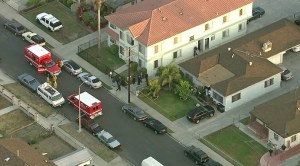 It happened around 5:30 a.m. at an apartment building in the 1600 block of West 205th Street.
When officers arrived, they found one man who had been shot to death on a stairwell, said LAPD Sgt. Rudy Lopez.
They entered an apartment and found two additional male victims deceased.
All three victims were African-American men between 20 and 30 years old, Lopez said.
A fourth man who was shot in the leg was located by officers a short distance away at Western Avenue and Del Amo Boulevard.
He was treated by paramedics and transported to a local hospital.
"He's being detained now for his involvement in this incident," Lopez said.
Based on witness accounts, police said it appeared all the people involved were acquaintances.
"There was a disturbance inside the location when the shooting occurred," Lopez said. "It does not appear that this was race-related or gang-related."
He did not have any additional details about the nature of the dispute.
The investigation was ongoing. Police were not actively searching for anybody else in the area.