This is an archived article and the information in the article may be outdated. Please look at the time stamp on the story to see when it was last updated.
Police activity prompted the temporary closure of the northbound 101 Freeway through East Hollywood early Thursday morning.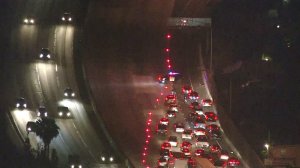 Officials issued a SigAlert for the freeway closure near the Western Avenue/Santa Monica Boulevard offramp just after 4:15 a.m., according to the California Highway Patrol's traffic incident website.
All northbound lanes were closed during the investigation, according to the CHP.
Traffic was backed up for several miles as cars were being diverted off the freeway at the Western Avenue/Santa Monica Boulevard offramp.
It was unclear what prompted the police activity.
Aerial video from Sky5 showed a large air cushion was inflated at one point under the freeway. The safety device was removed about 6 a.m. and the freeway was reopened.
A Los Angeles Police Department spokeswoman said a would-be jumper was taken into custody.
SIGALERT: NB US-101 AT WESTERN AVE, ALL LANES BLOCKED UNTIL FURTHER NOTICE DUE TO LAPD POLICE ACTIVITY

— CHP PIO – LA County (@CHPsouthern) May 18, 2017