This is an archived article and the information in the article may be outdated. Please look at the time stamp on the story to see when it was last updated.
A man has been arrested in connection with the fatal shooting of his wife after authorities were called while the suspect was allegedly trying to steal someone's car in an agriculture field, the Oxnard Police Department reported.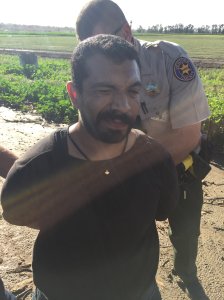 Alfredo Ortiz, 33, was arrested Thursday at 2: 15 p.m. in the unincorporated area of Somis after police received a 911 call from an agricultural worker who said a man was trying to carjack him, officials said.
Officers set up a perimeter, and located Ortiz soon after.
Police had been in the area searching for Ortiz who was wanted in connection with the fatal shooting of his wife on Thursday morning.
The fatal shooting happened in the 100 block of North Juanita Street, authorities reported.
Ortiz's wife, Teresa, was found about 10:35 a.m. suffering from a gunshot wound to the abdomen.
Responding officers started life saving measures, but the woman succumbed to her injuries, police said.
Witnesses told responding officers they saw a man dragging a woman into a home and heard several gunshots. Another woman and six children were then seen running away from the home, police said.
Ortiz was transported to the Oxnard Police Department and expected to be booked for the murder of Teresa Ortiz, police said.