This is an archived article and the information in the article may be outdated. Please look at the time stamp on the story to see when it was last updated.
LAPD has a woman in custody who investigators believe may be connected to a series of arsons in North Hollywood.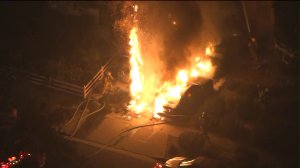 Angelina McWhirter, 35, was arrested on Monday on unrelated warrants and fits the description of the wanted arsonist, according to the Los Angeles Police Department.
LAPD officials alerted the Los Angeles Fire Department about the arrest, authorities said.
The North Hollywood community has been plagued in recent weeks by a string of arsons.
Firefighters battled tree and auto fires in front of three separate homes on October 19 and extinguished another fire in a parking lot below a 4-story condominium building on October 21.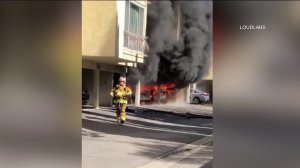 No injuries have been reported from the fires but residents have expressed concern about their safety.
"I've lived here for several years and we've never had any issues until recently," said Travis Cohen, a neighbor who lives near the condo building that was burned. "About two months ago there was a dumpster fire in my building and then this whole thing today. It's kind of scary because this is supposed to be a secure area."
The suspected arsonist was described as a 20 to 30-year-old white woman who rides a beach cruiser, according to the LAPD.