This is an archived article and the information in the article may be outdated. Please look at the time stamp on the story to see when it was last updated.
The president of the civilian panel that oversees the Los Angeles Police Department said he will direct the LAPD's watchdog to review its cadet program, the latest inquiry stemming from a series of disturbing allegations involving the long-championed youth program.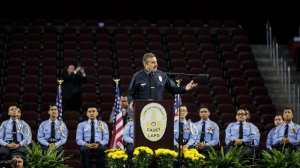 Matt Johnson, the head of the Police Commission, said he would ask Inspector General Alex Bustamante to look into how the LAPD recruits and supervises its teenage cadets, as well as how the department oversees the program in general.
The goal, Johnson said, is to "ensure that this incident is an exception and not a systematic failure."
He was referring to the recent arrest of a 31-year-old officer accused of having a sexual relationship with a 15-year-old cadet, allegations that surfaced after seven teenage cadets were arrested on suspicion of stealing police cars and other equipment.
Click here to read the full story on LATimes.com.