This is an archived article and the information in the article may be outdated. Please look at the time stamp on the story to see when it was last updated.
Police were searching for a shooter or shooters Sunday evening after two men were discovered bound with duct tape and fatally shot in a residential garage in Montclair, officials said.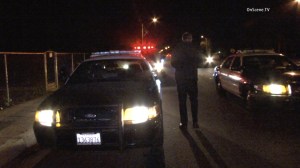 Officers responded about 6:46 p.m. to a call reporting shots fired in the 1100 block of Monte Vista Avenue (map), said Lt. Brian Ventura of the Montclair Police Department.
They arrived at a property to find the two deceased victims inside a detached garage, with duct tape around their wrists and mouths, Ventura said.
A witness reported seeing a handcuffed third victim, with an apparent laceration to the neck, running from the garage, according to the Police Department. That victim's mouth was also covered with duct tape, the witness said.
No one was in custody in connection with the incident, Ventura said.
Anyone with information is asked to call the Montclair Police Department at 909-621-4771.