This is an archived article and the information in the article may be outdated. Please look at the time stamp on the story to see when it was last updated.
Legions of people took to social media Friday in support of Bruno, an Anaheim police dog who was recovering from surgery after being shot in the face while on duty.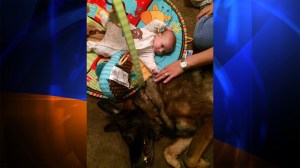 SWAT was called to assist Anaheim police after a probation search resulted in gunfire Thursday, Anaheim Police Department Lt. Tim Schmidt said at the time.
During a search with SWAT officers, Bruno was off-leash and found a gunman hiding near a trash can, Schmidt said. The man then shot Bruno and at the officers.
"There's no doubt that this dog saved three officers and was able to identify the gunman… this shooting occurred just within feet," Schmidt said.
Officers returned gunfire, killing the man at about 3:15 p.m., Schmidt said.
The Orange County coroner's office identified the man as Robert Moreno Jr., 21.
After Bruno was shot in the lower jaw, the bullet exited his jaw, entered his chest and stopped an inch away from his heart, a Friends of the Anaheim Police K9 Association Facebook post stated.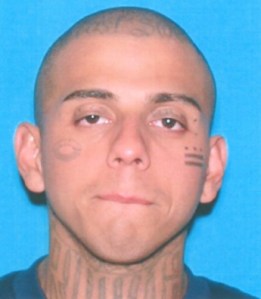 Bruno had surgery at the Yorba Linda Regional Animal Hospital Thursday night, Anaheim police tweeted.
Bruno slept through the night and was in stable condition, although heavily sedated and in a lot of pain after surgeons had to reconstruct his jaw, Schmidt said.
While Schmidt originally said Bruno was expected to recover, he later said that because of the extent of the injuries, the 12 to 18 hours following surgery were vitally important to the dog's recovery.
"We're in that waiting period to make sure the dog can survive," Schmidt said.
Bruno's partner, Officer R.J. Young, stayed with the dog throughout the night, Schmidt said.
"The impact on him — that dog is like a child to his family," Schmidt said Friday morning of Bruno's relationship with his partner. "He's devastated by it."
Bruno was improved by 2 p.m., the Anaheim Police Department stated on Twitter.
Bruno is doing well and even sitting up steady. Docs want him to rest so we've limited visitors. Except for his partner, of course.

— Anaheim PD (@AnaheimPD) March 21, 2014
The city was paying for Bruno's medical expenses, and but those costs will shift to his handler once Bruno retires, according to a Facebook post from Friends of the Anaheim Police K9 Association, which was raising funds to offset those bills.
"Bruno will most likely need more care than the average retired police canine," the association's post read. "Our goal is to make certain money is not part of the decision making process when it comes to his medical treatment in retirement."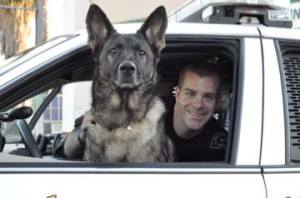 Many people were hoping and praying for Bruno's recovery, Anaheim Police Department Sgt. Steve Pena said.
"Bruno did his job," Pena said. "That's why we have the dogs — they keep the officers safe. They find the bad guys so the officers can stay behind cover. They keep us safe."
Following the shooting, hundreds have posted about Bruno on the Friends of the Anaheim Police K9 Association Facebook page.
"What a brave doggy soul… I love your beautiful face! Praying for a speedy recovery. We love you Bruno," Facebook user Jessica Adrian Williams commented.
"Bruno, you have many people and dogs pulling for you—hang tough. We need you." Facebook user Maria Dales commented.
The Anaheim Police Department tweeted that anyone interested in donating to Bruno's care could do so through the Friends of the Anaheim Police K9 Association Facebook page.
Correction: A previous version of this story said Moreno was 22 years old. He was 21. The story has been updated to reflect this.
Bruno is now sleeping…. pic.twitter.com/Qyp6A0xTn9

— Anaheim PD (@AnaheimPD) March 21, 2014