This is an archived article and the information in the article may be outdated. Please look at the time stamp on the story to see when it was last updated.
After six weeks and several surgeries, Bruno, the Anaheim police dog who was shot in the face during a search for a gunman, went home on Friday.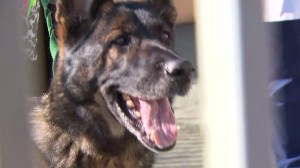 Bruno, who was seen walking out and about Friday morning outside Yorba Regional Animal Hospital, where the K-9 had been recovering, left the facility shortly after 1 p.m. with his partner, Anaheim police Officer R.J. Young.
"It's amazing," Young said. "I would have never thought we would be here so quickly."
He thanked Bruno's many supporters, saying he had heard from fans around the world.
Looking alert and well, Bruno — who was greeted by cheers and applause from the crowd that gathered to watch — bounded through the doors of the hospital, pulling the leash that Young held. The dog jumped excitedly into the back of an Anaheim Police Department patrol car, video from the scene showed.
Bruno's jaw and left lung were damaged when he was shot on March 20, according to Anaheim police. A bullet was also lodged close to his heart.
The man who shot Bruno, identified as 21-year-old Robert Moreno Jr., also opened fire on officers before being shot and killed, authorities said.
Following the shooting, police credited Bruno with saving the lives of three officers.
Doctors and others from the Yorba Regional Animal Hospital, where the K-9 has been recovering, said that if a person had received the same injuries as Bruno, they might have been in a coma for weeks.
It was amazing, hospital officials added, that Bruno was able to recover so quickly.
The 7-year-old German shepherd underwent several surgeries and suffered a few setbacks during his recovery, including a bout last month with a life-threatening problem called gastric bloat.
But on Wednesday, the Anaheim Police Department announced Bruno was finally well enough to go home.
The retired K-9 is expected to continue his recovery at home, according to a news release from the Anaheim Police Department.
Young considers Bruno part of his family. They dog acts as a "protector" to the baby girl that Young and his wife Rachel have, they've said.
KTLA's Chris Burrous and Kareen Wynter contributed to this report.