This is an archived article and the information in the article may be outdated. Please look at the time stamp on the story to see when it was last updated.
A UPS facility in San Bernardino was temporarily evacuated Friday evening after a delivery driver discovered a package addressed to a "suspect" home in Redlands, authorities said.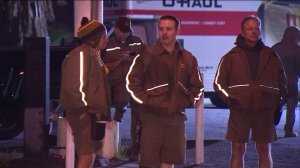 "Item was safe, posed no threat," San Bernardino Police Department Chief Jarrod Burguan tweeted after the incident, adding that the package was found to contain clothing.
It was addressed to the home of the shooters who killed 14 people and wounded 21 others at a social services agency on Wednesday, the Los Angeles Times reported.
Multiple police vehicles were seen shortly after 8:30 p.m. outside the UPS customer center in the 1400 block of East Victoria Avenue (map).
The evacuation was ordered out of an abundance of caution, according to Burguan.
"Package with delivery address to suspect res (sic) in Redlands," he initially said on Twitter. "Isolating package to be safe."
Althought the item was from a "reputable vendor," UPS officials called police "just to be safe" after noticing its delivery address, the police chief tweeted.
It was unclear if the item had been sent to a particular suspect, according to Burguan.
San Bernardino County Sheriff's Department bomb technicians responded to the scene and examined the package, police said.
In a statement, a UPS spokesman said the shipping company was "cooperating with law enforcement as they investigate an issue at our San Bernardino facility."
"We have temporarily suspended operations there," the statement confirmed.
The incident comes two days after two Redlands residents, Syed Farook and Tashfeen Malik, went on a deadly shooting rampage at the Inland Regional Center before being killed in a shootout with authorities.