This is an archived article and the information in the article may be outdated. Please look at the time stamp on the story to see when it was last updated.
A search continued Sunday for a 22-year-old Pasadena woman who was last seen Thursday in the Atwater Village area, police and family members said.
Katherine "Katie" Wing was reported missing on Friday, according to Lt. Jesse Carrillo of the Pasadena Police Department.
The last known sighting of Wing occurred about 4:30 p.m. Thursday as she was leaving work in the area of 4500 Sperry Street, the lieutenant said. She had been expected to attend a party at a bowling alley in Glendale but never arrived, a friend told police.
Investigators were searching for a white 2011 Toyota Yaris, with California license plate No. 6PZZ635, which relatives said Wing was driving.
Pasadena police contacted their counterparts in the Ventura area, where the missing woman's family owns a second home, and asked them to check the residence, Carrillo said. She was not seen at the location, nor was she found when authorities made inquiries at hospitals in the Pasadena area.
Katherine Wing has suffered from depression, her mother, Delia Wing, told KTLA.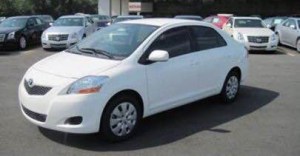 The elder Wing said there had been no recent activity on her daughter's cellphone, a circumstance she described as "very out of character."
The missing woman was described as white, 5 feet 3 inches tall, weighing about 100 pounds, with green eyes, dark hair and multiple tattoos: a likeness of the Virgin of Guadalupe on her upper left arm, with a large green snake underneath; and the text of a Bible verse, John 3:16, written on her upper back.
Anyone with information about Katherine Wing's whereabouts was asked to call Pasadena police at 626-744-4241 or the Ventura County Sheriff's Department at 805-654-2380.