This is an archived article and the information in the article may be outdated. Please look at the time stamp on the story to see when it was last updated.
Long Beach Police officers fatally shot a dog that apparently attacked its owner, a woman, officials said Monday.
The incident occurred about 11:25 p.m. Sunday when police got a call about a woman screaming in the 4100 block of Norse Way.
Responding officers found the woman lying in the street with the dog a few feet away. She had multiple dog bites on her arms and legs, and her clothes had been ripped from her body, police said in a news release.
While the officers tried to figure out their next move, the dog apparently became aggressive again and began to advance, according to the news release. The officers first fired rubber bullets at the dog, while another officer shot his gun at the dog, prompting it to run across the street.
The officers then used a Taser on the dog, but when it tried to run back to the area where the woman was being treated by firefighters, "officers were forced to shoot the dog a second time," the news release stated.
The dog, identified as a pit bull, was struck and died at the scene.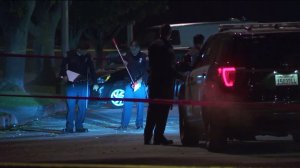 The woman, 51, was apparently walking with the dog when it attacked her, police spokeswoman Nancy Pratt told KTLA.
It is unclear why the dog bit the woman, but officials told KTLA that the animal had a history of problems in Nevada, where the woman lives. The police news release described that the dog's past problems as "violent behavior towards people," saying the owner told investigators about the history.
The dog's body was taken to Long Beach Animal Care Services, which is closed on Mondays and Tuesdays, Pratt said.
The woman was hospitalized with extensive but not life threatening injuries, police said.
No other person was injured during the incident.