Police found an infant inside a car being driven by a shooting suspect who tried to flee from police in the Inland Empire Sunday night, authorities said.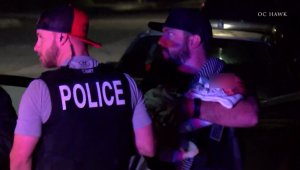 The events began Saturday night when a fight broke out at a party in the 15900 block of Tyrol Drive in the city of Fontana.
Three men involved in the fight left the party but returned with guns about 4:30 a.m. Sunday and opened fire, Fontana Police Department Lt. Bills said.
Two male victims were struck by the gunfire, according to a news release from the Police Department. Both men were transported to a local hospital and listed in stable condition.
The shooting suspects were later identified as 28-year-old Michael Santoscoy, 23-year-old Christopher Santoscoy and 37-year-old Trinidad Macias.
Michael and Christopher Santoscoy were located and arrested without incident, according to the news release.
About 10 p.m. Sunday, police spotted Macias entering and fleeing in a white Nissan Altima in the 6100 block of Honeysuckle Lane in San Bernardino.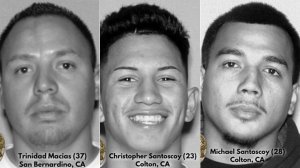 A slow-speed pursuit that was taken over by the California Highway Patrol included stints on the 10, 210, 15 and 215 freeways and continued for about an hour, Bills said.
Macias was apparently on the phone with family members during the pursuit and claimed to have several handguns, a rifle and his infant child in the vehicle with him.
At one point during the pursuit, police say Macias threw a gun out of the vehicle and onto the freeway. The gun was recovered by trailing officers.
Macias eventually pulled over on North Bordwell Avenue and surrendered without incident in the city of Colton.
After taking Macias into custody, police discovered the infant inside the vehicle. The baby, believed to be about 3 months old, appeared to be OK and was released to his mother.
KTLA's Nancy Fontan contributed to this report.