This is an archived article and the information in the article may be outdated. Please look at the time stamp on the story to see when it was last updated.
A driver was arrested on suspicion of DUI after a crash in Alhambra that left 13 people injured, four of them critically, police said.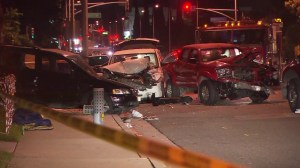 The incident occurred near the intersection of North Fremont Avenue and Poplar Boulevard (map), in a residential neighborhood where several homes were festooned with holiday lights and decorations.
A red pickup truck was traveling northbound on Fremont when it made a turn across oncoming  traffic and struck two parked minivans, said Lt. Garrett Kennedy of the Alhambra Police Department. It was unclear how many people were in the three vehicles.
Of the 13 people who were hurt in the collision, 11 were transported to three hospitals, Kennedy said.
Four of the people were taken to the hospital in critical condition, the Police Department posted on their Facebook page. The conditions of the rest of the injured were unknown.
Asked if any of the victims were children, Kennedy said he did not know.
Seven of the injured were pedestrians who were looking at the holiday decorations when they were hit, he said.
The suspected DUI driver was not immediately identified.
Fremont was closed between Poplar and West Commonwealth Avenue, police said. Authorities asked people to avoid the area.