This is an archived article and the information in the article may be outdated. Please look at the time stamp on the story to see when it was last updated.
Authorities have released the names of the two people who died yesterday morning after their car was involved in a crash with another vehicle in Inglewood.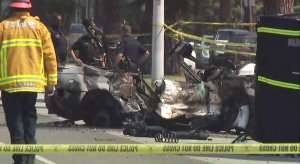 Hawthorne resident Catalina Garcia, 25, was making a left turn onto 108th Street when her Ford Mustang collided with an Infiniti Q70 that was heading north on Crenshaw Boulevard, the Inglewood Police Department said in a news release.
Both she and her passenger, 27-year-old Ismael Zepeda, of Inglewood, died at the scene. Flames had fully engulfed their vehicle before emergency responders could arrive, video from the scene shows.
One witness told KTLA she believes Garcia and Zepeda died on impact, "because it was that bad."
The Infiniti's sole occupant suffered serious injuries as a result of the crash, officials said. His vehicle also caught fire, but an off-duty firefighter and another bystander were able to pull him from the burning car.
Police said the man is cooperating in their investigation. His name has not been released.
Detectives said they are looking into whether alcohol or drugs could have played a role, but noted that a cause remains under investigation.
Witnesses told KTLA both vehicles had been speeding before they ran into each other, but police have not commented on speed.
Anyone with information can contact Officer Ryan Green, a traffic investigator with the Inglewood Police Department, at 310-412-5134. Anonymous tips can be submitted via 888-412-7463.