This is an archived article and the information in the article may be outdated. Please look at the time stamp on the story to see when it was last updated.
The woman accused of killing a man whose body was found on a dolly not far from a hole that had been dug behind a home in the Harbor Gateway neighborhood was identified by police on Thursday.
Kristen Olson, 39, was arrested on suspicion of murder after homicide investigators responded to the home on the 800 block of 173rd Street Wednesday, Los Angeles Police Officer Jeff Lee confirmed.
Officials said they responded to the home shortly before 10 a.m., and inmate records show Olson was arrested around 5 p.m. She was being held on $2 million bail.
Police said they made the grisly discovery after someone reported that a woman appeared to be disposing a body in the property's backyard.
Aerial video showed the corpse sat near a shed, wrapped in plastic bags and positioned to be transported, not far away from where digging tools were left out near a hole in the ground.
Authorities have not released the deceased man's identity, but neighbors say it is the home's owner, a 62-year-old mechanic who rented a room to Olson. Neighbors believed he had been trying to evict her over possible drug use.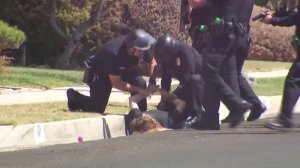 The victim lived there several years but hadn't been seen in four or five days, the residents said.
One man who lives down the street from the location told KTLA a woman who knew the victim went to check on him, then ran out saying, "They killed my friend."
Others in the area at the time went into the backyard, the man said, and observed a woman running out of a shed and into the house.
Speaking to reporters on Wednesday, LAPD Lt. Byron Roberts acknowledged that it was a highly suspicious situation.
"Generally speaking, when someone passes, they notify the appropriate people, and the appropriate people respond," he said. "People don't wrap people in anything and remove them from the place where they passed."
A woman was seen being taken away from the home in handcuffs around noon Wednesday. Police have not confirmed whether that was Olson, but they had said only one woman was detained in connection with the investigation.
KTLA's Matt Phillips contributed to this report.