This is an archived article and the information in the article may be outdated. Please look at the time stamp on the story to see when it was last updated.
Authorities on Saturday released surveillance photos of three men suspected in the fatal shooting of a 24-year-old man at a gas station in Buena Park.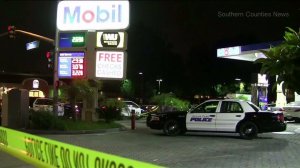 The incident began shortly before 10:30 p.m. Friday at the Mobil gas station located at 5989 Beach Boulevard, where Maher Yousef remained in his car as his passenger went into the mini-mart, according to a news release from the Buena Park Police Department.
Three men approached the driver, brandished weapons and demanded money, investigators said.
"A brief struggle broke out between Yousef and one gunman from the (driver-side) window," the statement said. "A second hooded gunman approached the passenger-side open door and shot Yousef in the head from close range."
The three assailants then fled the scene on foot, heading northbound, according to police and witnesses.
Officers responded to the location and found the shooting victim suffering from multiple gunshot wounds, the news release said.
News video showed Orange County Fire Authority paramedics treating Yousef as he lay on the ground near a black four-door sedan. The La Mirada resident was transported to UC Irvine Medical Center, where he died, police said.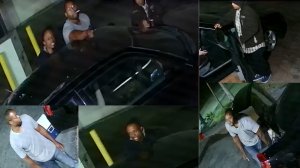 According to investigators, evidence suggests Yousef and the passenger were targeted because they were employees of a check-cashing business.
Police on Saturday evening released surveillance photos showing the three suspects, all of them black men in their 20s. One is described as 5 feet 10 inches tall, with a heavy build. He was last seen wearing a brown hoodie, a checkered shirt, dark pants and blue shoes.
The second suspect is said to be 6 feet 2 inches tall, 200 pounds, with possible facial hair. He wore a striped V-neck T-shirt, jeans and white tennis shoes.
The third man is described as 5 feet 8 inches tall, with a thin build, wearing a dark hoodie.
Anyone with information about the shooting was encouraged to call the Buena Park Police Department at 714-562-3901.