This is an archived article and the information in the article may be outdated. Please look at the time stamp on the story to see when it was last updated.
A man who was found fatally shot at a business in Highland Park was identified Tuesday and descriptions of two male attackers wanted in connection with the shooting were released.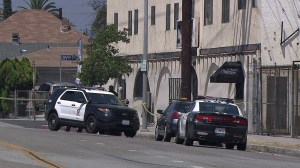 Irving Serrano, 23, was discovered on the floor of the location after officers responded to the 3600 block of Pasadena Avenue (map) about 1 p.m. Monday, the Los Angeles Police Department said in a statement. Authorities had initially said the victim was 26 years old.
Serrano, who suffered multiple gunshot wounds, was pronounced dead at the scene by Los Angeles city firefighters, authorities said.
"The suspects are described as two males, unknown descent, shaved heads, wearing baggy pants," the LAPD statement said. They "were last seen fleeing the location in a white or gray four-door vehicle."
It was unknown if the shooting was gang-related, according to a police spokeswoman.
Anyone with information is urged to call Detectives Governo and Aguilar of the LAPD's Northeast Division at 323-344-5744.