This is an archived article and the information in the article may be outdated. Please look at the time stamp on the story to see when it was last updated.
Authorities on Saturday identified a Los Angeles County Sheriff's Department deputy who was killed the previous day in an off-duty motorcycle crash in Corona. A second rider was seriously injured.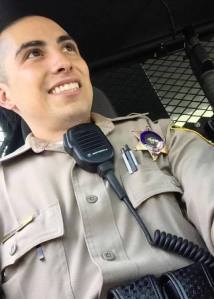 Deputy Philip Borja, 25, of Upland, died at Riverside Community Hospital following the Friday afternoon collision, which involved two motorcycles and two cars, according to the Corona Police Department. A 24-year-old man was released from the medical center after being treated for his injuries.
The crash happened shortly before 4:30 p.m. as the two motorcyclists were heading eastbound on Hidden Valley Parkway, just east of the 15 Freeway, police said in a news release.
A 57-year-old woman, driving a white Ford Fusion, exited a Stater Bros. parking lot and turned left onto the street. The car "entered into the path of travel of the two motorcycles" and was struck on the driver's side by Borja, the statement said. The other rider avoided the Fusion by swerving into oncoming lanes.
Both cycles struck a Volkswagen Beetle, driven by a 22-year-old woman, traveling westbound on Hidden Valley, according to investigators. Both Borja's motorcycle and the Beetle then erupted in flames.
Neither of the two drivers was injured.
As of Saturday morning, no arrests had been made nor any citations issued in connection with the incident.
Borja was assigned to the sheriff's Norwalk station, the news release said.
Anyone with information about the collision was asked to contact Traffic Investigator Clark Eveland by phone at 951-817-5764 or email at clark.eveland@discovercorona.com.