This is an archived article and the information in the article may be outdated. Please look at the time stamp on the story to see when it was last updated.
Police on Wednesday were investigating a break-in at Jerry's Famous Deli in Encino.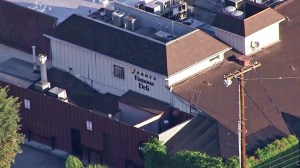 Someone called to report the incident at 16650 Ventura Blvd. (map) just before 6 a.m., Los Angeles Police Officer Liliana Preciado said.
Investigators believe a burglar may have climbed up a ladder and entered the building through the roof before breaking out through a glass door or window, Preciado said.
Broken glass was found outside the building, suggesting the door or window was smashed from inside, according to Preciado.
Surveillance video showed a man wearing a baseball cap rifling through the restaurant's office.
"Apparently, this guy he didn't know what he was doing or what he was looking for," said general manager William Friedman. "He didn't get anything."
"Very little cash" is kept in the building, Friedman said, as most of the establishment's customers pay by credit card.
Police have made no arrests in the incident, which was still under investigation, Preciado said.
KTLA's John A. Moreno contributed to this report.