This is an archived article and the information in the article may be outdated. Please look at the time stamp on the story to see when it was last updated.
A woman and an infant were forced into the trunk of a car by two men in a possible kidnapping Saturday afternoon outside an Inglewood discount store, police said.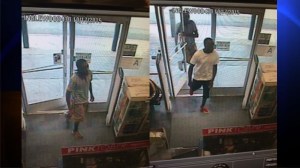 Witnesses told detectives that the incident took place about 11:10 a.m. in the 2800 block of West Imperial Highway, according to a news release issued by the Inglewood Police Department.
The men approached the victims as they were walking to their car — a silver, late-model, four-door Mercedes-Benz sedan with tinted windows and chrome rims, the statement said.
"Once at the driver's door the suspects forced the victim to turn over her car keys, then forced her and the child to the rear of the vehicle, opened the trunk and forced them both inside," the release said. "After closing the trunk both suspects entered the passenger compartment of the victim's vehicle."
The car headed northbound through the parking lot, then eastbound on Imperial Highway and out of sight, according to witnesses.
The woman was described as black, in her 20s, light-skinned, wearing a blue denim jacket, blue denim pants and a multicolored scarf.
The baby was said to be black, with braided hair, wearing a diaper and a pink T-shirt.
The two men were each described as black, about 20 years old, 5 feet 3 inches tall, weighing 140 pounds.
One had short hair, and was wearing a gray striped T-shirt and blue jeans. The other man was wearing black pants, a blue denim jacket, white shirt and black baseball cap.
Police released surveillance photos of two people described as persons of interest in the case, whom detectives said were involved in petty thefts of nearby businesses about the time of the possible kidnapping.
Anyone with information about the incident was asked to call the Police Department's homicide section at 310-412-5240, or the 24-hour anonymous hotline number: 888-412-7463.