This is an archived article and the information in the article may be outdated. Please look at the time stamp on the story to see when it was last updated.
Police in Santa Ana are investigating separate robberies that recently occurred at gas stations.
In the most recent incident, a man sucker punched a clerk as he took money out of the register, surveillance video showed.
The robbery occurred about 2:45 a.m. on Aug. 14 at a gas station mini mart along Grand Avenue.
The man allegedly told the clerk that he had a gun and that he would come back and kill the victim if he reported the incident to police, authorities told KTLA.
Santa Ana Police Corp. Anthony Bertagna said no gun was seen during the incident.
Another armed robbery occurred at a Chevron gas station about 6:05 p.m. on July 29.
Two men entered the convenience store; one of the men forced his way behind the counter while armed with a gun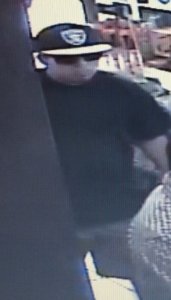 and demanded money while the other man held the door shut so no one could go in or out.
The first man is described as being between 25 and 25 years old, with muscular build, between 5 feet 7 to 5 feet 10 inches tall and weight about 180 to 200 pounds.
He was wearing a black and white or silver Raider's cap, sunglasses, a black short-sleeve shirt, brown shorts and black sneakers, police said.
The second man was described as being the about the same age and height, but is believed to weigh between 160 and 170 pounds. He was wearing gray long-sleeve pullover over a white shirt and black sneakers.
There is no indication that the robberies are connected.