This is an archived article and the information in the article may be outdated. Please look at the time stamp on the story to see when it was last updated.
A man who allegedly stabbed someone with a sword in downtown Los Angeles prompted an hourslong standoff outside an apartment building Wednesday, but the assailant was not found by police.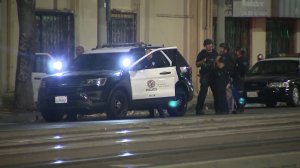 The incident began about 3:15 a.m. near the intersection of East Washington Boulevard and Los Angeles Street.
The suspect walked out of an apartment building and attacked a man who was walking with a woman in the area, Los Angeles Police Department Officer Rosario Herrera confirmed.
The unidentified victim told police he was stabbed with a sword before the attacker went back into the apartment building and barricaded himself. The victim was taken to a local hospital with non-life-threatening injuries, a spokesperson for LAPD said.
About 1 p.m., police said the standoff had "been resolved." The attacker was not found inside, according to LAPD Officer Norma Eisenman
No details about what happened to the woman who had been with the victim were immediately available.
It was unclear if there was any prior relationship between the attacker, the victim and the woman.
KTLA's Jennifer Thang and Melissa Pamer contributed to this report.