This is an archived article and the information in the article may be outdated. Please look at the time stamp on the story to see when it was last updated.
The mother of a 3-week-old baby that was kidnapped and killed in January may have been followed earlier that day while she rode a bus in Long Beach, police said Wednesday as they released surveillance video and sketches of two people wanted in connection with the crimes.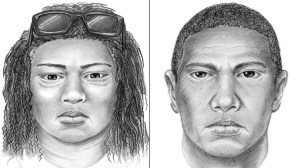 Baby Eliza Delacruz was kidnapped from her family's home in the 100 block of West 51st Street (map) in Long Beach after a shooting that left her parents and uncle wounded on Jan. 3.
Her body was discovered the next day inside a plastic bag that had been dumped in an Imperial Beach strip mall dumpster (map) in San Diego County.
Just hours before the Jan. 3 shooting and kidnapping, investigators say the mother and baby Eliza may have been followed by a woman driving a black SUV as they rode a bus in Long Beach, according to a Long Beach Police Department news release.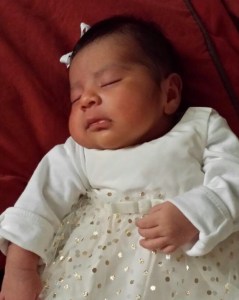 Surveillance video showed the mother and baby exiting the bus about 4:15 p.m. at Del Amo and Long Beach boulevards (map), then walking toward an intersection where the SUV is seen turning the corner.
The SUV pulled up next to them when the driver -- described as an African-American woman, about 40 years old, heavy set, with long dark curly black hair -- inquired about the baby, the Police Department stated.
The mother had a brief verbal exchange with the woman then walked home, according to the release.
Detectives contacted the bus company and found other surveillance videos, which appear to show the same black SUV following the bus while baby Eliza and her mother were passengers.
The SUV is believed to be a 2006 to 2011 Range Rover with large black rims.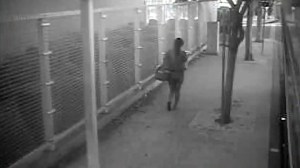 Detectives on Wednesday released sketches of the woman who was driving the SUV and of the man who forced his way into the home and kidnapped baby Eliza.
He was described as either dark-skinned Hispanic or African-American.
"A connection between the victims and the suspects has yet to be identified," the release stated.
A $25,000 reward has been offered for information leading to the arrest and conviction of the person or persons involved in Eliza's death.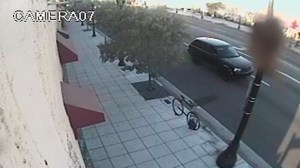 Anyone with information was asked to call Long Beach Homicide Detectives Donald Goodman and Mark Mattia at 562-570-7244.
Anyone wishing to remain anonymous may call 1-800-222-8477, or text TIPLA plus your tip to 274637, or visit www.LACrimeStoppers.org.
KTLA's Tracy Bloom, John Moreno and Ashely Soley-Cerro contributed to this report. 
Correction: The victim's age was incorrect in an earlier version of this report. The story has been updated to reflect the change.
Watch below: Surveillance videos released by the Long Beach Police Department.
More Video: