This is an archived article and the information in the article may be outdated. Please look at the time stamp on the story to see when it was last updated.
Long Beach police announced four arrests in two high-profile homicide investigations on Thursday, including the 2009 stabbing death of a Cambodian immigrant great-grandmother and a 23-year-old mother who was shot multiple times when retrieving a diaper bag.
Leam Sovanasy was 76 when she was found stabbed to death in her apartment on Jan. 31, 2009, in the 1400 block of Peterson Avenue. Police had found no motive for the violent killing.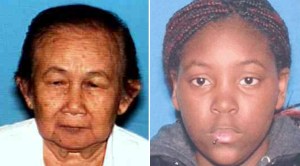 "The avid Los Angeles Lakers fan was a Cambodian immigrant who survived the Khmer Rouge regime, only to be violently murdered in her Long Beach home," a Long Beach Police Department news release stated in July.
More than four years later, new clues emerged over the summer and police asked for the public's help after identifying a vehicle had been seen near Sovanasy's home. Based on tips from the public, two "persons of interest" were described in August, when police released composite sketches of the two men.
The Los Angeles County Board of Supervisors also approved a $10,000 reward for information leading to the arrests of Sovanasy's killer or killers.
Freddie Battle, 25, and Dontae Davis, 24, were arrested in the slaying, Long Beach Police Chief Jim McDonnell announced Thursday.
One of the man called police to say the sketches released by the department did not depict him, authorities said. That phone call, along with DNA evidence, led to the arrests.
The two have extensive criminal records and a long history of pawning items for money — but they stopped doing so for several months after the slaying of Sovanasy, which was described as a botched robbery, police said.
"Although potentially the suspects in this case thought … the heat was off, and they were going to get away with it, the detectives never gave up the case," McDonnell said. "They continued to work it. Every tidbit of information they could get, they went back to the case and worked it."
Battle was arrested Sept. 5 and was being held at the Men's Central Jail in downtown Los Angeles, according to online inmate records from the Los Angeles County Sheriff's Department. Davis was being held at the same location after his Sept. 6 arrest, according to inmate records.
A more recent case that garnered much attention was the July 25 shooting death of Jazzmine Wash, who was retrieving a diaper bag after dropping off her 3-year-old child at a relative's home when she was killed. After witnesses heard multiple gunshots, Wash's body was found in the courtyard of an apartment building in the 500 block of Walnut Avenue.
As with Sovanasy, no motive in Wash's killing was known, police said initially.
But McDonnell said Thursday that a 16-year-old female friend had conspired with a 30-year-old friend to pick Wash up and take her to her grandmother's, where the older man was "lying in wait to murder Jazzmine."
The older suspect, identified as Jason Haggerty of Long Beach, thought Wash was going to report a probation violation he committed, police said. Haggerty blamed Wash for the probation violation, McConnell said.
The underage female suspect was not identified because she's a juvenile. She allegedly picked Wash up from a police station where the victim had gone to talk to police about having a gun pointed at her while at a bus stop.
The two suspects and Wash had at one time been friends, according to police, who said the killing was gang related.
Haggerty was arrested midday Monday, according to online inmate records. He was being held at the North County Correctional Facility in Castaic, records show.