This is an archived article and the information in the article may be outdated. Please look at the time stamp on the story to see when it was last updated.
A 20-year-old man died following  shooting early Friday morning in Santa Ana, and police are looking for the shooter and the victim's car.
Officers were called to a shooting about 2:30 a.m. in the 2800 block of North Bristol Street at the Waterstone Park Apartments, Santa Ana Police Department Sgt. Gutierrez said.
When they arrived, they found victim Adrian Real in the parking lot suffering from multiple gunshot wounds, police said.
The Orange County Fire Authority responded shortly after police and attempted to save Real's life but ultimately declared him deceased at 2:47 a.m., the Police Department stated in a news release.
Witnesses told officials that they heard an argument between two people when gunshots rang out, police Cpl. Anthony Bertagna said.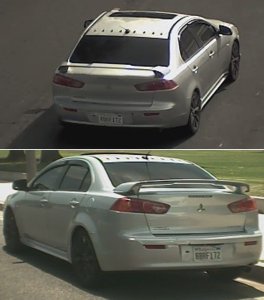 Someone took Real's 2008 silver Mitsubishi Lancer sedan with the license plate number 8BRF172 from the scene, and investigators believe it may have been his killer.
The suspect is believed to be armed and dangerous, police said.
The motive for the shooting is still unknown, and it's not clear if the vehicle theft was related to the homicide.
During the shooting, the "family dog" was struck and suffered a gunshot wound, but the animal was not believed to have been a target. Orange County Animal Control took the dog to a local animal hospital, where it ultimately died.
If you see the car or have any information about this shooting, contact 714-245-8390 or Orange County Crime Stoppers.