This is an archived article and the information in the article may be outdated. Please look at the time stamp on the story to see when it was last updated.
EL SEGUNDO, Calif. (KTLA) — One man was behind bars in El Segundo on Wednesday, accused of posing as a police officer to sexually assault and rob a woman, police said.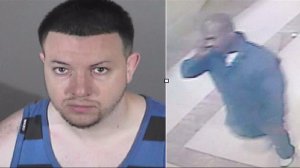 Meantime, authorities were asking for the public's help identifying a second man sought in connection with the case.
Wesley Robert Stepp, 22, was arrested on Saturday at an El Segundo hotel.
He allegedly pretended to be a police officer and conducted a fake prostitution "sting operation," according to El Segundo police.
The victim arranged to meet Stepp through a website, investigators said.
He is accused of flashing a police badge, telling the woman we was a police officer and taking her into a hotel room, where he allegedly handcuffed and sexually assaulted her.
Stepp then allegedly stole cash and property from the woman before fleeing, El Segundo police officials said.
Police were looking for a second man, described as an African American between 25 and 30 years old. He is about 6 feet 1 and 170 pounds, is bald and has a goatee, police said.
Anyone with information was asked to contact the El Segundo Police Department at (310) 524-2200.