This is an archived article and the information in the article may be outdated. Please look at the time stamp on the story to see when it was last updated.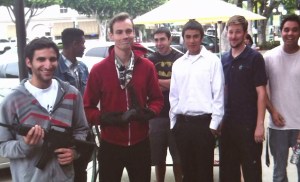 GLENDORA, Calif. (KTLA) — Police in Glendora nearly opened fire on a film crew on Thursday, believing that a real armed robbery was in progress.
It happened at 7:19 a.m. at Classic Coffee, located at 146 N. Glendora Ave., according to the Glendora Police Department.
A student film crew was filming a scene inside the coffee shop that simulated an armed takeover robbery, police said.
A citizen walking toward the coffee shop saw the apparent robbery in progress and called 911.
All on-duty Glendora officers responded and surrounded the coffee shop.
They encountered two men dressed in hoodies, gloves and bandanas, and armed with what appeared to be a handgun and an AR-15 assault rifle.
The "suspect" with the handgun did not follow the commands of officers to drop the weapon, according to a statement from police.
The second "suspect" dropped the assault rifle on the ground when he saw officers, police said.
"Officers quickly disarmed the 'suspect' with the handgun who was nearly shot, had it not been for the professionalism, excellent training and skill level of Glendora police officers," the statement said.
Officers subsequently determined that the guns were realistic Airsoft weapons.
However, they did not have the required orange tips or markings to distinguish them as false, according to police.
"The looked extremely real. I picked them up afterwards, and they were heavy like real weapons, but they were simulated," Glendora police Capt. Kim Stabb said.
The restaurant's manager had given the crew permission to film, but they did not obtain a permit from the city, police said.
"We're all wiping the sweat off our brow yesterday, including the coffee shop people," Stabb said.
"We understand what they were doing, but you've got to get permits," he said. "We don't charge any money for these permits — it's for public safety."
"I can't think of anything more dangerous then to have a gun in your hand with the cops coming," Stabb said. "It came just so close."