This is an archived article and the information in the article may be outdated. Please look at the time stamp on the story to see when it was last updated.
Authorities released new surveillance footage and announced a $50,000 reward on Tuesday as they continued to search for the driver of a Porsche SUV that hit and killed a cyclist in South Los Angeles.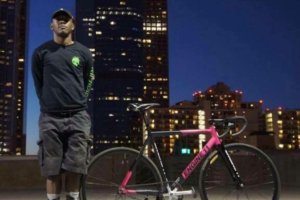 The mother and friends of 22-year-old Frederick Frazier spoke alongside Los Angeles police officials near the site where he bled to death at the intersection of Manchester from Normandie avenues, pleading for the person behind the wheel of the white Cayenne to turn themself in.
The fatal incident occurred around 12:45 p.m. on April 10, shortly after Frazier left home for a bike ride, his mother, Beverly Owens, said.
"Why didn't they stop? Why didn't they stop for him?" Owens could be heard asking through tears and she stood over a memorial to her son at the site.
The Porsche was traveling at a high rate of speed, heading east down Manchester Avenue, when it hit Frazier, who had just turned right onto Manchester from Normandie Avenue, according to Los Angeles Police Capt. Jonathan Tom.
The SUV was last seen fleeing down Manchester before turning right to head south on Budlong Avenue, Detective Ryan Moreno said.
Investigators have been canvassing the area and received tips from neighborhood residents, but the driver and vehicle have yet to be found. Officials are now running checks on several license plate numbers they believe could point them to the perpetrator, Moreno said.
Owens said her son chose to take up cycling "to save his life" as he struggled with Type 1 diabetes.
"He worked full time and he has a car but he wanted to get his miles in, so he rode his bike," she said. "He didn't deserve to die because he rode his bike."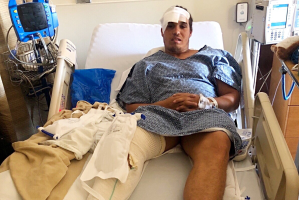 Owens described how an acquaintance had come across Frazier in his dying moments and stayed to pray with him.
"He was my only son, he was my only child. He was all I had of value to this whole world," said Owens, who raised him as a single mother. "He was probably calling out for me; I was all he had."
Moses Williams, a friend of Frazier's, said many who knew him haven't been able to sleep or eat in the week since he died due to the grisly nature of what happened.
"It was an accident but what you did, you ran — you turned into a murderer," he said. "It didn't have to be like that, all you had to do was stop and stay with him."
Owens echoed that sentiment, and said she wouldn't rest until the driver has been brought to justice.
"Do the right thing because until the death of my soul — until I die, until God call me back to be with my child — I'll be looking for you with every breath I've got, dude," she said.
Authorities are also attempting to identify and locate a second person, a woman, who was driving through the same intersection as members of the cycling community were holding a vigil for Frazier and struck a man before fleeing the scene.
Quatrell Stallings was sent several feet into the air by the force of the impact and taken to the hospital, where he was treated for injuries to his femur, knee and ankle.

A woman could be seen outside her car arguing with the mourners, who were blocking the intersection, before ramming through the crowd in the caught-on-video incident.
The car involved in that crash has been recovered, LAPD Capt. Shannon Paulson said, but the driver has not been identified.
The tan, 2001 Toyota Avalon was found unoccupied in Compton after police received an anonymous tip. The car is now being processed to uncover evidence it may contain, according to Paulson.
Paulson said she has a "strong belief" the car will help lead to an arrest in the case, but officers are still searching for the woman seen in video from the scene.
She is described as a black woman between 25 and 30 years old, measuring about 5 feet tall and weighing around 120 pounds. She appears to have a nose ring and tattoo on the left side of her abdomen.
"Remaining at large and not identifying yourself is only compounding the trouble you may be in," Paulson said.
Officers are also asking any witnesses from that day to speak with police and share any video they may have.
Anyone with information on either hit-and-run crash can contact LAPD detectives at 323-421-2500, or submit a tip anonymously via 800-222-8477.
A GoFundMe campaign has also been set up to assist Owens following her son's death.