This is an archived article and the information in the article may be outdated. Please look at the time stamp on the story to see when it was last updated.
A Downey police officer who was fatally shot while sitting in his personal vehicle near the police station was the victim of a botched robbery, and three young men who fled the shooting were arrested and were being held on suspicion of murder Thursday in his death.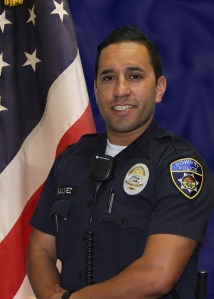 Officer Ricardo Galvez was parked in an unmarked vehicle in a public parking lot next to the Downey Police Department, located at 10911 Brookshire Ave., when two people ran up and at least one opened fire around 11 p.m. Wednesday, according to the Los Angeles County Sheriff's Department.
Three people believed to be responsible for the shooting, were in custody, sheriff's homicide Lt. John Corina said during a news conference.
"It looks like these guys were out looking for somebody to rob," Corina said. "They saw Officer Galvez sitting in his car — it was his personal car — and they thought, 'Well, we're going to go up and rob this individual.' When they approached the car, that's when they shot him."
Galvez, 29, was in plainclothes and was returning from an off-site training shift when the shooting occurred, Corina said.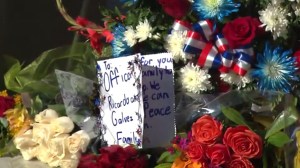 The trio did not realize Galvez was a police officer or that they were near the police station, the lieutenant said. Investigators initially thought Galvez may have been targeted.
"There was nothing indicating he was a police officer when he was shot," Corina said.
A fellow Downey officer who was beginning his patrol shift heard the gunfire and pursued the suspects, Downey police Lt. Mark McDaniel said.
The pursuit ended near Washington Boulevard and Carob Way in Montebello, where multiple people, both men and women, were detained.
The car's driver was taken into custody immediately, and two others were arrested after a search of a home at the location, Corina said. A handgun that was believed to have been used in the shooting was recovered.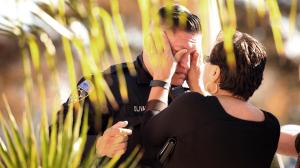 All three suspects were set to be charged with murder, Corina said.
The driver was described as a 21-year-old Hispanic man, who had tried to flee through residential backyards, the Sheriff's Department said in a news release Thursday evening.
The other two, 16- and 18-year-old Hispanic males, fled into a home where they were eventually taken into custody.
The suspects' names were not being released, and they were being held without bail, the release stated.
After news of the officer's death spread, local officials offered condolences.
"Every day, the brave men and women of our Downey Police Department put themselves at personal risk to keep us all safe," Mayor Luis Marquez said. "We are incredibly sorrowed at the loss of Officer Galvez and our thoughts and prayers are with all who knew and loved him."
Galvez was a "tremendous young man" who loved serving the residents of Downey, police Chief Carl Charles said.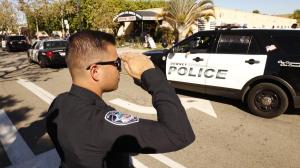 "His smile was infectious and his professionalism was always on display," Charles said.
A five-year veteran of the Police Department and a U.S. Marine, Galvez was survived by his mother, a brother and sisters.
"If you can mold a police officer, you would mold that police officer after Ricky Galvez. He loved serving his city and he loved serving his country," McDaniel said.
The Sheriff's Department initially described the location where Galvez was shot as a Police Department parking lot, but McDaniel said it was a public lot that offers easy access to the station, and where police and city vehicles often park. The department also has two secure lots, McDaniel said.
Investigators thought the fatal shooting may be related to a car-to-car shooting about 2 miles from the station, but later said the incidents were not related.