This is an archived article and the information in the article may be outdated. Please look at the time stamp on the story to see when it was last updated.
At least two civilians and an LAPD bomb squad officer rescued a driver from a burning car Wednesday after a crash on the 405 Freeway in Sherman Oaks, authorities said.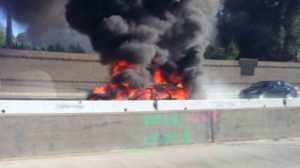 The single-vehicle collision occurred at 1:52 p.m. on the northbound side of the freeway at Ventura Boulevard, where the uniformed bomb squad officer and an off-duty battalion chief with the Los Angeles Fire Department happened to drive past the scene, according to an LAFD statement.
Los Angeles Police Department Officer Don Thompson, a 26-year veteran of the department, was on his way to work near Los Angeles International Airport when he saw an out-of-control car crash into the center divider.
The unconscious driver was trapped behind the wheel as the car went up in flames, according to an LAPD news release.
"He would have burned. There was no 'coulda' to that," Thompson said. "He would have died. … It was just a matter of seconds."
As Thompson and other motorists freed the 72-year-old victim from the care, the passing fire battalion chief made a direct call to a dispatch center.
Thompson suffered minor burns to his hands and forearms, for which he was treated at a local urgent care facility.
The man who was pulled from the car was transported to a hospital with moderate injuries.
"It makes me feel good to know that I saved a life," Thompson.
According to the California Highway Patrol's Traffic Incident Information website, a black older model Mercedes station wagon hit the center divider several times after weaving in and out of lanes. After it crashed, the vehicle became fully engulfed in the flames, the CHP site stated.
Firefighters who responded quickly extinguished the blaze.
KTLA's John A. Moreno and Melissa Pamer contributed to this story.