This is an archived article and the information in the article may be outdated. Please look at the time stamp on the story to see when it was last updated.
Los Angeles police fatally shot a man at a busy intersection in Harbor Gateway Monday morning after he allegedly opened fire at a nearby residential area and shot at officers, the agency said. At least two officers responded to a radio call about a family dispute in the 167000 block of Denver Avenue at about 6:40 a.m., Detective Meghan Aguilar told KTLA. Police later learned that a man had opened fire inside and outside of a home before heading to Figueroa Street and Gardena Boulevard, Aguilar said. That's where at least one of the officers found and shot him, the detective said. The man died at the scene.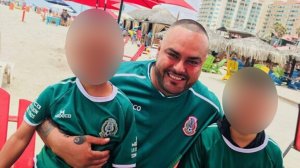 Family members identified the gunman as 32-year-old David Flores Ramos, a father of two who resided in Gardena. The sequence of events remain unclear hours after the shooting, Aguilar said, but investigators believe Ramos fired a gun at the officers. There is a bullet hole in the passenger door of the officers' patrol car, and a firearm was recovered at the scene, Aguilar said. No officer or other civilian was injured, according to LAPD. Additional police units descended on the Figueroa Street and Gardena Boulevard, where a white tent covered what appeared to be a body near a sidewalk by a Chevron gas station. People at the scene who identified themselves as family members said Ramos lived around the corner from where he was fatally shot. "His mom told me it was her son," a neighbor told KTLA. "But they didn't tell her he was dead." Another resident said his young cousin had been walking to school when he heard about five gun shots and ran back home. Cellphone video obtained by KTLA shows officers with guns drawn out surrounding the man who was laying motionless on the ground. A witness can be heard saying "police just shot and killed this man," as sirens wail in the background. Officers can then be seen handcuffing the man. The incident happened during a busy morning in the neighborhood, where several businesses are located. Detectives are interviewing witnesses and reviewing body-worn and dashboard cameras, Aguilar said.
KTLA's Nouran Salahieh contributed to this report.