This is an archived article and the information in the article may be outdated. Please look at the time stamp on the story to see when it was last updated.
A gunman shot and killed two of his adult relatives Saturday at a cemetery in Ontario before fatally turning the gun on himself, authorities said.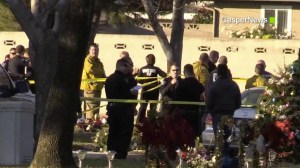 Several callers reported the shooting shortly after 3 p.m. at Bellevue Memorial Park, in the 1200 block of West G Street, according to a statement from the Ontario Police Department.
Officers responded and found three people near one another, each of whom had been shot. They were pronounced dead at the scene.
Witnesses told investigators that the gunman was at the cemetery, seated in his car, when three of his family members -- a man and two women -- arrived in a separate car. The arriving relatives, including an elderly woman using a walker, exited their vehicle and approached a grave site, the news release said.
The suspect, armed with a handgun, then exited his car and walked toward the victims, police said.
"He quickly shot one and then the other" before shooting himself, according to the statement, leaving the woman with the walker unharmed.
In an interview with KTLA, a witness described a chaotic scene in the aftermath of the gunfire.
"You couldn't tell where the shots were coming from," said the woman, who asked not to be identified by name. "Everybody was running (in) different directions. By the time you know it, we got in the car and we left."
Several police and Fire Department units responded to the scene, where news video seemed to show officers standing over a person who was lying on the ground, motionless.
The victims and the gunman appeared to be in their 60s and were all related by marriage, the Police Department said. None were immediately identified, pending notification of next of kin.
Investigators were attempting to determine the shooter's motive.
"Obviously he knew that they were coming here this day. It was probably a significant date," police Sgt. Jeff Higbee said.
"It's the first time I've ever heard of that happening," he said.
Anyone with information about the incident was asked to call Detective Josh Burks of the Ontario Police Department at 909-395-2912.