This is an archived article and the information in the article may be outdated. Please look at the time stamp on the story to see when it was last updated.
A gunman in Panorama City on Saturday evening wounded his ex-girlfriend and her adult son, then shot and killed her two teenage daughters before fatally turning his firearm on himself, authorities said.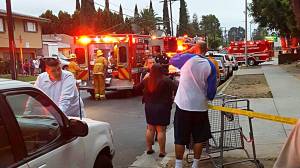 The shooting occurred about 7:30 p.m. when the man, 46, entered the 41-year-old woman's apartment in the 8500 block of Cedros Avenue, said Detective Richard Wheeler of the Los Angeles Police Department.
A domestic dispute ensued and the gunman shot the woman in the stomach, according to the LAPD.
"Her 20-year-old son heard the shot and went to investigate," the detective said. "The suspect turned his attention toward that man and fired several shots at him, striking him in the back."
The shooter fatally shot the woman's two daughters, ages 13 and 17, then shot and killed himself, police said. The LAPD initially said the victims were all adults.
The woman and her son were transported to a hospital, according to Wheeler, where they were listed in stable condition.
Neither the victims nor the gunman were immediately identified by officials.
On Sunday, a GoFundMe page created in honor of the slain girls gave their names as Kimberly and Stephanie Gonzalez.