This is an archived article and the information in the article may be outdated. Please look at the time stamp on the story to see when it was last updated.
Multiple students were pepper sprayed after at least two fight broke out at John C. Fremont Senior High School in the Florence neighborhood of South Los Angeles on Thursday, according to school police.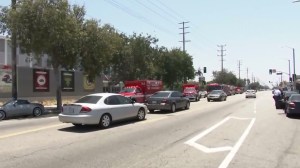 The incident occurred just before noon at the school, which is located at 7676 San Pedro Street, according to a Los Angeles Fire Department alert.
Two "spontaneous" physical altercations between students broke out on campus, prompting an officer to use the pepper spray "in an effort to quickly end the fights," Los Angeles School Department Police Chief Steven Zipperman said in a statement.
The spray was credited with ending the fights; however, other students not involved were also hit, according to the statement.
Officials have not stated how the altercations began, but a student's mother told KTLA one of them started when a group of girls attacked her daughter.
The unidentified mother said the girl, who is in the ROTC program, has been the victim of constant harassment and bullying.
Her daughter fought back after being attacked by the group, according to the mom.
A female student who witnessed the incident and said she was an innocent bystander told KTLA there were three fights going on when police pepper sprayed the crowd.
"I was just in the crowd and the cops just started pepper spraying everyone. They pepper sprayed like, 30 kids," said the student, who did not want to be named. She was among those hit with the spray.
Up to 17 people, including one officer, were exposed to the irritant, the LAFD alert stated. Most sustained minor eye irritation, with two suffering minor injuries from the altercation.
None of the injured were transported to a hospital.
Los Angeles school police personnel have notified parents and are investigating the incident.