This is an archived article and the information in the article may be outdated. Please look at the time stamp on the story to see when it was last updated.
The driver of a stolen car, who in turn carjacked a second vehicle, was shot Monday evening after leading police on a high-speed chase on surface streets and freeways through East Los Angeles to Montebello.
The pursuit started around 5:15 p.m. on First Street in Boyle Heights after officers tried to pull the suspect over during a stolen car stop, according to Los Angeles Police Department Officer Rosario Herrera.
Aerial video showed the man driving erratically in and out of traffic, speeding through numerous red lights and traveling on the wrong side of the street.
He collided with several vehicles during the pursuit, but kept going, the video showed.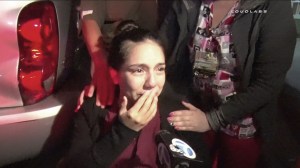 In South Gate, one of those collisions disabled the stolen vehicle. At that point, the driver jumped out of the stolen car and carjacked a second vehicle driven by a 22-year-old mother of two.
Video showed the man running up to the woman's car with a gun and yanking open the car door.  The woman jumped out and ran away.
"He was pointing the gun at me, I just got out of the car and ran," Elizabeth Yarahuan said. "I was just scared he was going to hurt me."
The young mother was alone in the car, but said she usually had her two little girls with her.
After he took Yarahuan's car, the man led officers across several freeways before exiting the 60 Freeway in Montebello at Via Campo near Garfield Avenue, aerial video from Sky5 showed.
On the off-ramp, the suspect got stuck while trying to squeeze between two vehicles, aerial video showed.
He then got out of the carjacked vehicle and tried to carjack two other cars, but was unsuccessful.
As he tried to flee, video showed the man appeared to trip or fall to the ground.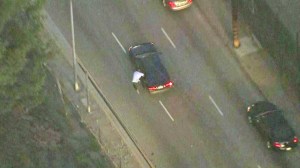 While on the ground, he was shot by police, according Herrera.
Before he could get up, he was swarmed by officers.
"Anytime you have complete disregard for public safety and the safety of other individuals … it's very dangerous," said Sgt. Frank Preciado.
The suspect was taken away by ambulance. There was no word on his condition.
He was described only as a Hispanic man in his early 30s, according to Preciado.
A gun was recovered at the scene, Preciado said. The type of gun was not released.
More Video: