This is an archived article and the information in the article may be outdated. Please look at the time stamp on the story to see when it was last updated.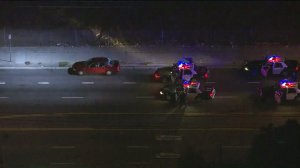 A suspected DUI driver was arrested late Wednesday following a pursuit through South Los Angeles.
The suspect was finally apprehended near the intersection of Imperial and Willowbrook, when she exited the vehicle and collapsed. LAPD Northeast Division will be handling the investigation.
LAPD Northeast Division began pursuing the female driver in a red Honda Accord just before 11 p.m. near the southbound 110 Freeway in South Los Angeles. The pursuit lasted about 30 minutes, went through several streets, and at times the driver ran red lights.
The woman stopped the car four times, but each time she took off again shortly after stopping. LAPD Officers deployed a spike strip near the intersection of Imperial and Compton, and the driver lost control of her car and struck a curb.
She continued driving for a short time, but at about 11:35 p.m. she pulled over in the area of Imperial near Wilmington and was taken into custody.
No other information was immediately available.