This is an archived article and the information in the article may be outdated. Please look at the time stamp on the story to see when it was last updated.
A man who was observed to be driving recklessly during a high-speed pursuit that spanned multiple cities was taken into custody after he ditched his car and tried to flee police by running into a HoneyBaked Ham store in Pasadena, aerial video showed.
The chase began shortly after 2 p.m. in the 1400 block of Tremont Street in Boyle Heights, where officers tried to conduct a traffic stop on a suspected gang member who was apparently armed with a gun, according to the Los Angeles Police Department.
The driver failed to stop and police began pursuing the car through Alhambra, Montecito Heights, Highland Park and other cities and neighborhoods.
During the wild chase, the car could be seen speeding on surface streets, swerving between lanes and crossing the center divider, Sky5 video showed. At one point, the pursuit vehicle collided with another car in one intersection and nearly hit a bicyclist as it ran a stop sign a short time later.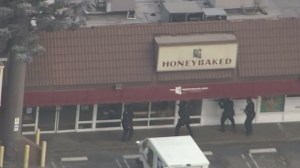 Around 2:40 p.m., the pursuit suspect got out of the vehicle in a residential area and ran alongside the street before he eventually went to a strip mall and ducked inside the restaurant at 480 S. Sierra Madre Blvd., Sky5 video showed.
Less than 10 minutes after that, several officers armed with weapons swarmed the HoneyBaked Ham store and went inside the eatery.
A short time later, a man wearing a gray hooded sweatshirt and black pants was taken out of the restaurant and thrown to the ground by a uniformed officer, aerial video showed.
He was then handcuffed and taken to a police car, according to the video.
LAPD Officer Tony Im later confirmed two people were taken into custody. He said the vehicle was not stolen or carjacked.
KTLA's Jennifer Thang and Scott Williams contributed to this story.