This is an archived article and the information in the article may be outdated. Please look at the time stamp on the story to see when it was last updated.
A SWAT officer was seriously injured and a man was killed Monday morning in a "running gun battle" after a vehicle pursuit ended in the Historic South-Central neighborhood of Los Angeles, authorities said. Another occupant of the vehicle was in custody.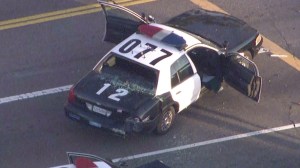 The incident, which shut down the 110 Freeway for hours as police collected shell casings and marked evidence, began when officers attempted to conduct a traffic stop about 2:20 a.m.
Officers tried to stop an SUV in the area of Manchester Avenue and the 110 Freeway when the vehicle accelerated, got onto the northbound side of the freeway and exited at Vernon Avenue, where the first of three exchanges of gunfire occurred, authorities said.
A passenger got out of the vehicle and fired rounds at officers, Los Angeles Police Department Cmdr. Andrew Smith said at an early afternoon news conference. He stressed the investigation was in preliminary stages.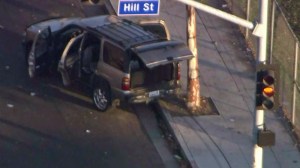 The vehicle, which had Washington plates, then reentered the 110 Freeway, got off at Martin Luther King Jr. Boulevard and continued on surface streets to 37th and Hill streets, where the SUV crashed into a curb. There, another shooting took place between the officers and the occupants, who fled on foot, Smith said.
News video of that location showed a patrol vehicle's rear window was blown out.
LAPD issued a tactical alert and established a perimeter as a search got underway and a SWAT team responded.
A K-9 unit later helped locate one of the men in a dumpster, authorities said. The 19-year-old was taken into custody after police used a flash-bang device and pepper-sprayed him.
He was hospitalized and was being questioned but had not been booked, Smith said. His name was not being released.
At about 5:30 a.m., officers encountered the second man in the 3700 block of South Grand Avenue (map), where more gunfire was exchanged several blocks from USC. The suspect, a 37-year-old man, was fatally shot by police after he fired on officers, Smith said.
The man was identified as Andre Maurice Jones of Los Angeles, according to the county coroner's office.
Aerial footage showed police and firefighters at the scene of the fatal shootout, where the deceased gunman's body was covered with a white sheet and the rifle appeared to be on the ground nearby.
A 22-year veteran SWAT officer was hit in the leg and underwent surgery at California Hospital Medical Center in downtown L.A., authorities said.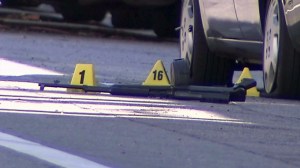 The gunman had a high-powered assault-type rifle with him with a pistol grip and drum magazine, Smith said. The rifle was the only weapon recovered in the crime spree, but investigators were still searching for other firearms, he said.
The firearm's configuration made the weapon illegal in California, Smith said. The drum magazine is also illegal.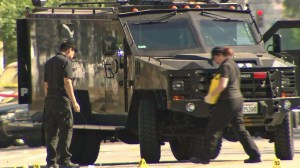 "Obviously, that's … not something we see too often," Smith said of the weapon. "I can't imagine why someone would be driving around with this in their vehicle at 2 o'clock in the morning."
Smith did not know how many rounds were fired by the gunmen, nor was he certain if both men had fired or if they had switched driving and passenger positions in the SUV.
Officers' lives were likely saved by the use of a Bear Cat armored vehicle obtained by the department in 2003, Smith said.
"Thank goodness we had that armored shield because a regular police car would have been swiss-cheesed … by the rounds this guy was shooting," Smith said.
The injured officer, who was not immediately identified, was visited in the hospital by LAPD Chief Charlie Beck.
"He is with his wife, friends & partners," Beck said on Twitter. "Thanks for your prayers as he recovers."
He was stable and doing well after surgery to fix a shattered lower leg, and will likely require additional surgery, Dr. Bryan Hubbard told news media.
"It depends on how rigorous his duties are as a police officer whether or not he comes back to full duty," Hubbard said. "But we should be able to get him back to the point where he can at least can carry on most functions of daily life."
The California Highway Patrol issued a SigAlert for the section of the northbound 110 Freeway where the first shooting occurred.
All four main lanes were closed for several hours, and traffic was temporarily diverted into the FasTrak lanes as authorities collected evidence at the scene.
Freeway onramps and offramps between Slauson and Exposition avenues were also shut down, and were reopened shortly after 12:30 p.m.
Just left hospital bedside of our wounded #LAPD #SWAT Ofcr. He is with his wife, friends & partners. Thanks for your prayers as he recovers.

— Chief Charlie Beck (@LAPDChiefBeck) August 18, 2014
More video: