This is an archived article and the information in the article may be outdated. Please look at the time stamp on the story to see when it was last updated.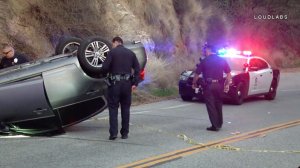 Police chases in Los Angeles County are "causing unnecessary bystander injuries and deaths" and most pursuits are launched in response to relatively minor crimes, according to a new grand jury report.
The grand jury said local agency rules on police chases should take into account the likelihood of a dangerous collision compared with the chances of catching a suspect.
Two-thirds of the 421 pursuits that took place in the 12-month period beginning in October 2015 resulted in a suspect's capture, the grand jury's report said. About 17% of pursuits resulted in a collision.
Over the same period, three fleeing drivers were killed and 45 people were injured, including suspects, their passengers or officers, the report said. That put the rate of injury or death at 11%.
Read the full story on LATimes.com.