This is an archived article and the information in the article may be outdated. Please look at the time stamp on the story to see when it was last updated.
Investigators on Sunday released an improved description of a pickup truck that fatally struck a San Gabriel woman and her 1-year-old granddaughter on Friday night, then fled the scene without stopping to help them, authorities said.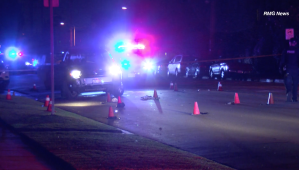 The 59-year-old woman was pushing the baby in a stroller about 9:35 p.m. and crossing the street within a marked crosswalk at Del Mar Avenue and Live Oak Street when they were struck, San Gabriel Police Department Sgt. Cruz Hernandez said in a written statement.
The pickup truck that hit the woman and child fled the scene, police said. Both victims died at a hospital a short time later.
Their identities were not released Sunday pending positive identification and notification of family by coroner's officials.
Police continued their hunt for the pickup truck and its driver over the weekend.
Detectives have developed a more complete and accurate description of the truck than was initially available, officials said.
It's now described as a dark or possibly midnight blue Chevrolet S-10 Xtreme, Lt. Brian Kott said. Authorities previously described the truck as silver.
The truck had an extended cab, chrome rims and tint on the rear windows, the lieutenant added. It had "noticeable" damage to its front end, which was concentrated on the driver-side headlight. The Chevrolet emblem from the front of the truck became dislodged during the collision and was found at the scene.
Anyone with information is urged to contact San Gabriel Police at 626-308-2828. Tips may also be submitted anonymously to L.A. Regional Crime Stoppers at 800-222-8477.