This is an archived article and the information in the article may be outdated. Please look at the time stamp on the story to see when it was last updated.
ANAHEIM, Calif. (KTLA) — Police released surveillance photos on Thursday of a man wanted in connection with a bank robbery in Anaheim.
It happened on July 15 just after 5 p.m. at the Bank of America located at 1818 S. Euclid St.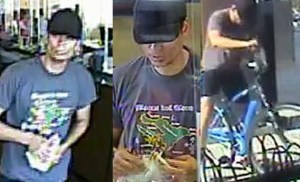 The man approached a teller's window, indicated he had a bomb and demanded money, according to a news release from Anaheim police.
The teller complied, and the man fled with an undisclosed about of cash. He left the area on a bicycle, police said.
A bank employee discovered a device he had left behind, which was believed to be a bomb.
The bank and several nearby business were evacuated, and the Orange County Bomb Squad responded.
About two hours later, bomb squad investigators declared the area safe after determining the device was not real.
The robber was described as a Middle Eastern or Hispanic man in his mid-30s, about 5 feet 9 inches tall and 160-170 pounds.
He has a thick build and pock marks on his face, police said.
The man was last seen wearing a black hat, a dark t-shirt and dark shorts.
Anyone with information was asked to contact Orange County Crime Stoppers at 855-TIP-OCCS or online at www.occrimestoppers.org.