This is an archived article and the information in the article may be outdated. Please look at the time stamp on the story to see when it was last updated.
Police on Monday morning responded to a robbery and bomb threat at a bank in downtown Los Angeles.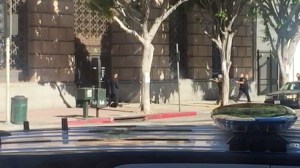 The call initially came out as a man who claimed to be armed with explosives attempting to rob a Chase branch bank in the 800 block of Hill Street, Officer Drake Madison with the Los Angeles Police Department said.
"The officers arrived and met with that suspect outside  of the location and less than lethal force was used to take him into custody," Madison said.
In a video recorded by witness Paul Bortoli, a man is seen standing on a sidewalk outside of a Chase branch. The man reaches into a suitcase and tosses several pieces of paper into the air. He is then approached five apparent police officers, some with weapons drawn.
The man in the footage falls to the ground after one of the officers apparently opens fire once.
Police later confirmed the weapon was loaded with non-lethal beanbag rounds.
Subsequent video from Sky5 seems to show the same man, shirtless and handcuffed, being examined by firefighter-paramedics and police before being placed on a stretcher in a seated position.
Sky5 video also appears to show several other people, possibly bank employees, exiting the building with their arms raised as officers remain in position nearby.
The suspected robber was treated at a local hospital and then taken into custody, according to police.
More video;