This is an archived article and the information in the article may be outdated. Please look at the time stamp on the story to see when it was last updated.
Police are investigating an apparent drive-by shooting in Pacoima Friday night that left five people injured, including a young girl, according to LAPD.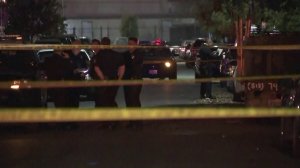 The shooting was reported about 7:50 p.m. in the 13000 block of Jouett Street, Los Angeles Police Department Officer Irma Mota told KTLA.
A group of people were in the front yard of a home when a vehicle drove up and at least one person inside opened fire, according to police officials.
Four adults, all men in their 20s to 30s, were hit by the gunfire and taken to hospitals. Two were critically injured, but the conditions of the other two patients were not yet known, according to Mota.
The fifth victim, a girl between the ages of 8 and 10, was grazed by a bullet and transported to a local hospital; her condition was also unknown, but a neighbor said she appeared to be mostly OK.
"I saw the bodies on the ground in their yard, a lot of blood. I heard a little girl got grazed and I saw the girl, but she wasn't crying or anything," the man told KTLA. "She was very coherent, she wasn't crying even when they wheeled her away."
Mota initially said a rifle was used in the shooting, but police at the scene later indicated they were still in the process of collecting shell casings and were unsure what type of firearm was involved.
"At this point, we have recovered some shell casings, and judging from the holes, it could be anything from a small caliber handgun ... to a rifle," said LAPD Capt. Donald Graham.
Investigators were looking into the possibility that the incident was gang-related.  LAPD has not released a description of the vehicle involved, or of the possible shooter or shooters.
No further details were immediately available.
KTLA's Matt Phillips contributed to this story.