This is an archived article and the information in the article may be outdated. Please look at the time stamp on the story to see when it was last updated.
LAPD officers responded to the Baldwin Hills Crenshaw Plaza on Wednesday afternoon after a report of shots fired.
The call came in just after 7 p.m. in the 3700 block of Santa Rosalia (map), according to L.A. Fire Department spokesman Brian Humphrey.
Aerial video from the scene showed a security guard outside the mall preventing shoppers from entering the building.
One person attending a conference in the plaza's community room told KTLA that everyone was initially told to get down on the floor and stay put.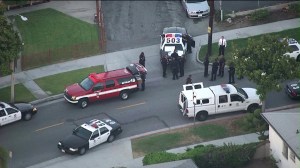 After about a half hour, those inside were told they could leave, he said.
The gunman allegedly shot at a security guard outside the mall, but missed, according to LAPD Commander Andy Smith.
Officers set up a perimeter to search a neighborhood near Vernon Avenue and Crenshaw Boulevard for the gunman, aerial video showed.
The video appeared to show a confrontation involving officers and the alleged gunman around 8:25 p.m. inside a residential garage on Angeles Vista Boulevard.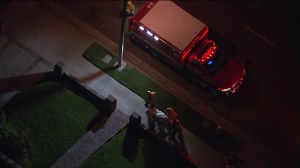 A body was later seen being taken out of the building on gurney and loaded into an ambulance.
No further information was released.