This is an archived article and the information in the article may be outdated. Please look at the time stamp on the story to see when it was last updated.
One dry ice explosion occurred and two dry ices bombs were found  in a restricted area of LAX Monday night, a day after a similar incident drew a multiagency response, authorities said.
A dry ice device exploded just before 8:30 p.m., and two other unexploded devices were found in the area of Gate 148 at the Tom Bradley International Terminal of Los Angeles International Airport, LAPD Detective Gus Villanueva said.
The suspicious items were reported in a space not accessible to the general public, Los Angeles Airport Police Sgt. Karla Ortiz said.
Likewise, on Sunday, the suspicious item — a 20 oz. bottle filled with dry ice — was in a restricted area, an employee restroom.
A Los Angeles Police Department bomb squad and the city fire department were on scene Monday night, and detectives from the criminal conspiracy section were also on responding, Villanueva said.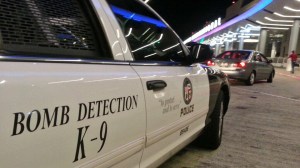 Police activity was complete by 10:15 p.m., airport police tweeted. Vehicle flow for departures and arrivals traffic was not impacted by the activity, airport police had said earlier on Twitter.
There was no "nexus to terrorism" and no reports of injuries, Villanueva added.
Aerial video showed dozens on patrol cars on scene and officers concentrated in an area between two jets next to the Bradley terminal.