This is an archived article and the information in the article may be outdated. Please look at the time stamp on the story to see when it was last updated.
Police shot and killed a man armed with a shotgun near a metro station in the downtown neighborhood of Los Angeles Sunday afternoon, the Los Angeles Police Department said.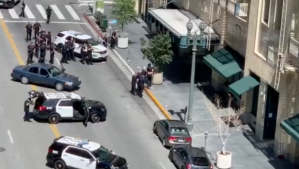 Two officers saw a "suspicious" man with a shotgun in the 7th Street/Metro Center station in the area of 7th Street and Flower Street and started chasing him on foot, LAPD said.
The man did not comply with orders and the short chase ended with an officer-involved shooting near Hope Street, according to LAPD Detective Meghan Aguilar.
The man was struck by gunfire and pronounced dead at the scene, authorities said.
Police did not identify the suspect but described him as a white male in his 40s.
A shotgun and ammunition were recovered, LAPD said.
Video showed a large police presence on the 600 block of 7th Street, where officers had their guns drawn out and pointed at the entrance of a building near a coffee shop.
Witnesses at the scene described hearing several shots fired.
No officers were injured in the incident, according to authorities.
The area of 7th Street and Hope Street was expected to remain closed for hours while officers investigate the incident.
No further information was immediately available.
The suspect was pronounced dead at scene. A shotgun as well as ammunition were recovered. No officers were injured.

— LAPD HQ (@LAPDHQ) April 14, 2019
There has been an Officer-Involved Shooting in Downtown LA, in the area of 7th and Hope. A Public Information Officer is responding to the scene and we will provide more details as they become available.

— LAPD HQ (@LAPDHQ) April 14, 2019